Made possible by Parallax Advanced Research  
Beavercreek, Ohio – Since 2011, Parallax Advanced Research, a 501(c)(3) research nonprofit, has supported nationwide industry and academia with a "team matchmaking process" that creates partnerships between federal agencies laboratories, academia, and small businesses nationwide. These partnerships produce research and development and science and technology as well as go on to earn non-dilutive federal funding to help offset the costs of expanding their product lines. 
Parallax's methodology for developing these strategic innovation partnerships is based on the Triple Helix Model of Innovation (Adapted from Etzkowitz & Leydesdorff (2000)). This model enables collaboration across government, academia, and industry, providing them access to resources that drive innovation and commercialization.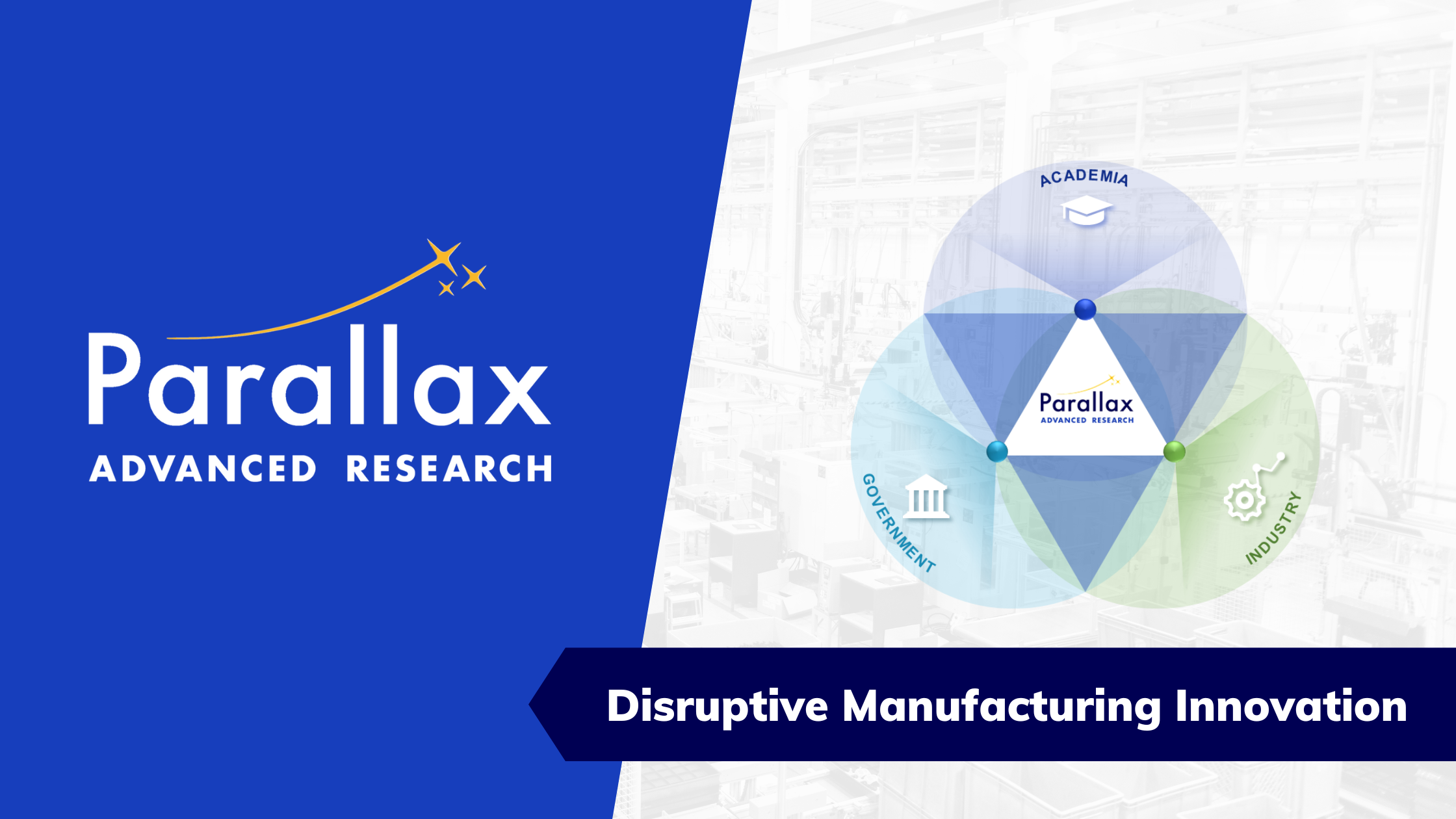 "We've embedded this model into every facet of what we do. Our mission is to tackle global challenges by driving innovation and commercialization, and we do this in two ways," said Dennis Andersh, Parallax president and CEO. "The first is by delivering innovative research through the Science of Intelligent Teaming (TM), which we've defined as basic and applied research of highly diverse machine and human teams and how they interact and perform with one another. The second is by developing strategic industry-academia-government partnerships across the Nation that result in the development of novel science and technology." 
Parallax is recognized as a connector of strategic partnerships that result in innovation and was entrusted by the Ohio General Assembly and Ohio Department of Higher Education in 2015 with funding used to manage the Ohio Federal Research Network, or OFRN, in collaboration with The Ohio State University.  
Specifically, the OFRN is a state of Ohio-focused science and technology enhancement program that funds academics and small businesses, such as manufacturers, to research and develop mission-critical technologies for Ohio's four federal laboratories: the Air Force Research Laboratory; Naval Medical Research Unit Dayton; National Air and Space Intelligence Center; and National Aeronautical and Space Administration's Glenn Research Center; as well as the Ohio National Guard. These technologies have gone on to win non-dilutive funding through the U.S. Small Business Innovation Research and Technology Transfer ( / ) programs and other government-funded programs, through which Parallax and OFRN provide application assistance to applicants in its network. 
OFRN's network is comprised of 97 small businesses and 21 academic institutions, including R1 and R2 universities and community colleges throughout the state of Ohio. 
Manufacturing Innovation Example   
One project is the "Thin-film Crystals for High-speed Optical Modulation," which will result in a thin-film lithium niobate on insulator technology for 100 GHz optical modulation in telecom and defense applications. The project is led by Ohio State in partnership with the University of Dayton and G&H Ohio, and the team aims to establish a domestic supplier to ensure high-technology jobs are created in and remain in Ohio and mitigate dependence on China-based suppliers.   
Lithium niobate is an electro-optic crystal, which is a critically important technology for high-speed optical modulation. It is used in applications such as high data-rate optical fiber communication and high-frequency receivers. Electrooptic modulators formed in lithium niobate have been the foundation of optical telecommunications for almost 30 years. Long-haul transceivers use external electro-optic modulators to encode amplitude or phase information onto light from continuous-wave lasers. Given the tremendous burden that 5G/6G wireless standards will place upon the fiber-optic infrastructure, electrooptic modulators will be needed to provide 100 Gb/s modulation rates.  
Recent advancements that exploit "Ion Slicing" are showing great potential to increase modulation rates. Ion slicing allows the formation of a very thin layer of lithium niobate, which is placed on an insulating layer to form a lithium niobate on an insulator wafer. This thin layer tightly confines the optical signal and significantly reduces the Vpi, which is the drive voltage of the modulator. It allows the devices to be much shorter, which makes operation at 100 GHz possible with voltages as low as 5 volts.  
During the 18-month effort, the team will employ ion-slicing to fabricate lithium niobate on the insulator and will design and fabricate an electro-optic modulator that incorporates this lithium niobate on the insulator and validate performance.  
"Our team is fortunate to have G&H Ohio as our industrial partner," said Dr. David Nippa, a research scientist at the Ohio State ElectroScience Laboratory and principal investigator of the OFRN-funded project. "A successful outcome would be for G&H to become the U.S. supplier of lithium niobate on insulator wafers and a producer of commercial-grade 100 GHz modulators. This upgrade to commercial modulation technology would impact the telecommunications infrastructure and be an enabler for 5G/6G data capacity. This modulator would also serve the needs of our military. These outcomes translate to high-tech Ohio jobs as well as students educated in microwave photonics and optical materials." 
G&H is an international company with over 40 years of experience in crystal growth and lithium niobate wafer formation in Highland Heights, Ohio. 
From facilitated networking, team matchmaking, consulting, education, and training, the Parallax-managed OFRN and programs provide American manufacturers support for winning non-dilutive federal funding to develop necessary research and technologies and expand their product lines.  
"The aim is to support the U.S. manufacturing sector with the productivity it needs to bring manufacturing home," said Andersh. "A strong economy depends on it." 
OFRN Results 
To date, the State of Ohio has funded the OFRN program with $51.4 million, which has supported 35 research and development projects. Those projects have gone on to receive a total of $211 million in follow-on funding. Of that total, $17.6 million is made of / funds from multiple U.S. Government agencies. OFRN provides / education, training, consulting, and team matchmaking to small business and academia innovators throughout Ohio who are interested in working with Ohio's four major federal laboratories on solving warfighter challenges.  
In its fifth round of funding, the OFRN program funded seven projects that are focused on "Sustaining Ohio's Aeronautical Readiness and Innovation in the Next Generation (SOARING)," which includes topics in unmanned aerial systems, artificial intelligence, human factors, data analytics, space commercialization, quantum communications, and advanced power systems.  Read more about OFRN Round 5 projects here. 
### 
About Parallax Advanced Research 
Parallax Advanced Research is a 501(c)(3) nonprofit that tackles global challenges by accelerating innovation and developing technology and solutions through strategic partnerships with government, industry, and academia across Ohio and the Nation. Together with academia, Parallax accelerates innovation that leads to breakthroughs. Together with the government, Parallax tackles critical global challenges and delivers new solutions. Together with the industry, Parallax develops groundbreaking ideas and speeds them to market.