Dayton, OH- Since its inception in 2018, the Launch Dayton team has focused on building a diverse, equitable, and inclusive (DEI) community of resources and mentors to propel the growth of Dayton's entrepreneurs.
Launch Dayton is a collaborative of entrepreneurial resource providers that support the Dayton region's startup and small business community. Launch Dayton partners aim to create an intentionally inclusive startup community that serves Dayton's entrepreneurs by providing resources and events that are easy to access, high-caliber programming, and a network of champions, mentors, and resource providers. Parallax Advanced Research is proud to manage this partnership.
In year one of the Parallax Launch Dayton team's work, they counted 88 entrepreneurs engaged with their work in the community, of which 15% were women and 26% were minorities. In 2019, Parallax's Launch Dayton team, with the support of their partners, set out to improve these figures. They did so by developing a holistic DEI strategy that involves targeted engagement and access to more accessible learning solutions. The results were dramatic. Between 2019 and 2021, the Parallax Launch Dayton team's programming grew to support a total of 182 entrepreneurs, 50% of whom were women and 45% minority.
How it started: The Launch Dayton vision and definition of success
Launch Dayton was conceptualized in 2018, when a group of local entrepreneurial-support organizations came together to figure out how to make greater impacts on the community, close service gaps, and support a diverse mix of entrepreneurs. Out of this meeting, a small working group formed in spring 2019, which brought forth recommendations for a shared identity and collective definition of success for the startup community.
That definition is: develop a thriving and intentionally inclusive startup community that continuously celebrates, supports, and inspires all entrepreneurs in the Dayton Region, with a demographic make-up that matches that of the region.
"That definition of success became our vision: we believe everyone, regardless of their background, should have the opportunity to determine their economic prosperity," said Audrey Ingram, Parallax team member and Launch Dayton Marketing Manager.
The shared identity is now bolstered by a collaboration of more than 20 partners who provide programs and resources for the Launch Dayton community, including the Parallax-managed Launch Dayton Mentor Network and Early Risers Academy. The Launch Dayton Mentor Network provides existing entrepreneurs in the Dayton Region access to a network of skilled mentors who provide professional guidance to help entrepreneurs meet specific business milestones. Early Risers Academy is a ten-week, cohort-based business class series that culminates with a pitch competition. It is run quarterly and managed by Parallax Advanced Research Program Manager, KeAnna Daniels, who is a 2021 Dayton Business Journal Outstanding Diversity Champion.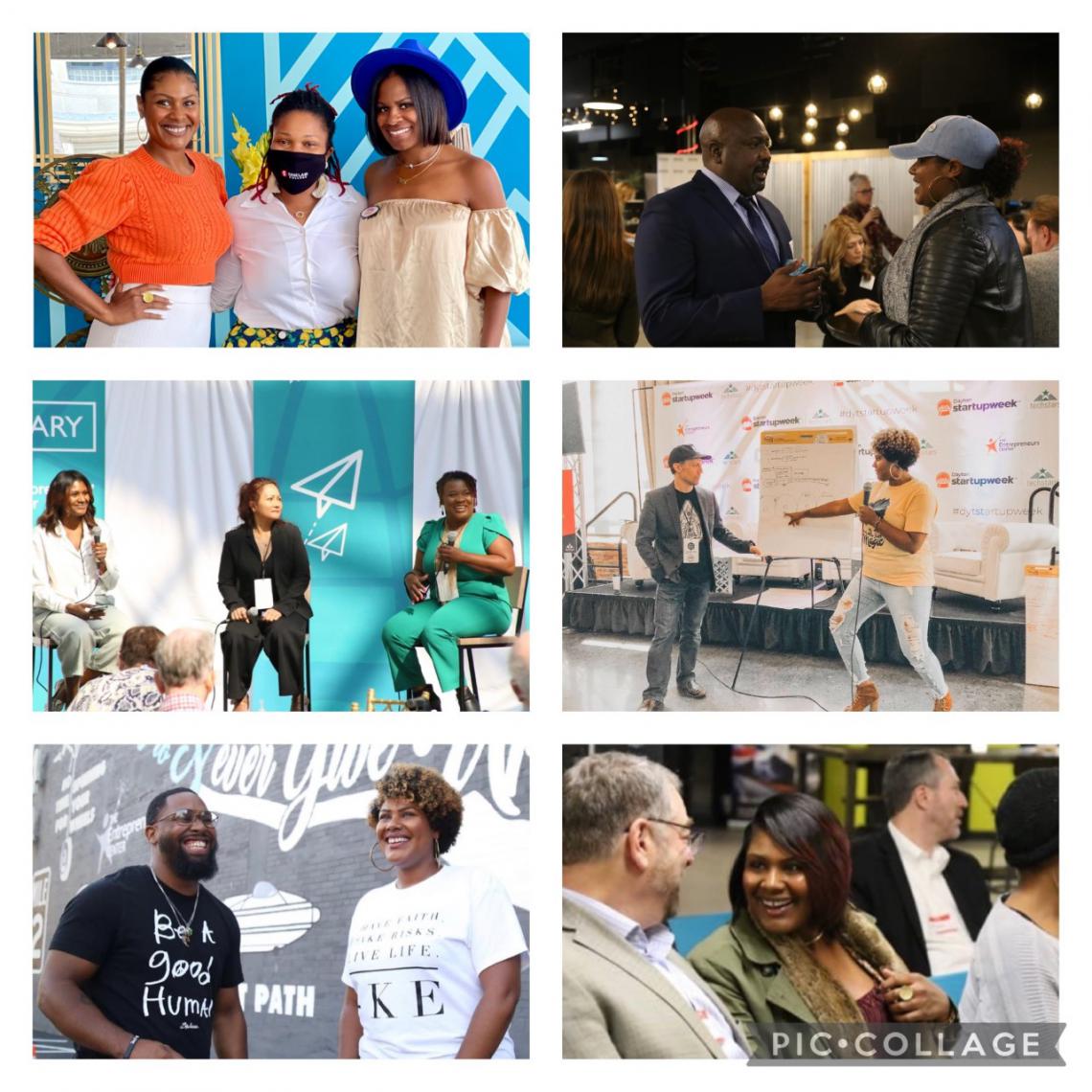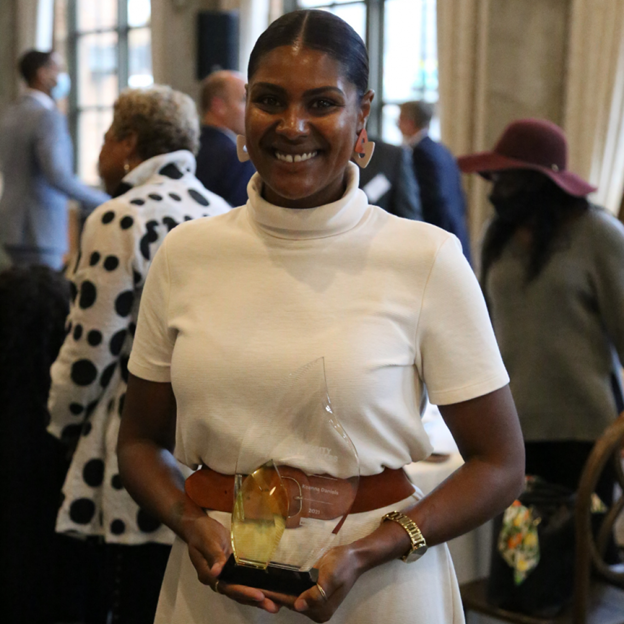 "True and intentional diversity helps organizations to be more innovative and cutting-edge because of the different perspectives they have represented on their teams. It allows an organization to be transdisciplinary. Diversity also builds rapport and support with communities and residents, which creates an opportunity for the company to be more human-centered," Daniels said.
Launch Dayton's DEI strategy is based on community collaboration
The first step was creating a shared vision and idea of success. The next step involved building community collaboration and support to work towards DEI project development and implementation. One Launch Dayton partner, The Entrepreneurs' Center (EC), contributed by launching innovative programs.
"In early 2021, we strategically partnered with the Dayton Area Chamber of Commerce under the support of JP Morgan Chase to implement Project Enginuity, a very exciting initiative designed to uplift and empower Black, Latinx and women innovators, assisting them on their journey to secure non-dilutive capital and accelerate change nationally," said Katie Ausdenmoore, director of marketing at EC. "Also, in December 2021, we launched the Rotunda Fund, a revenue-based investment fund for Dayton-area entrepreneurs and small businesses that do not require them to give up a percentage of their companies."
Moving forward into 2022 under the leadership of Scott Koorndyk, president of the EC, and their board of directors, the EC is focused on pursuing three goals: (1) continue to diversify their staff, entrepreneurs in residence, board members, and investors, (2) continue to diversify their client list of entrepreneurs through greater community outreach and the development of new programs, workshops and seminars that appeal to a minority audience, and (3) diversify the EC's list of vendors and strategic partners. The EC is committed to using service providers that have minority founders and diversity among their employees and boards of directors.
The Downtown Dayton Partnership (DDP) is another Launch Dayton partner that contributed to the DEI strategy. The DDEP set goals for the number of minority artists and performers they hire for their special events, the number of minority-owned businesses they connect within their retention and expansion efforts, and the number of searches they support for minority-owned companies in their Site Seeker program, which helps small business owners find commercial space.
"While Dayton remains very segregated, downtown is one of the few census tracts that reflects the diversity of our city. For example, 30% of downtown residents are Black," said Valerie Beerbower, economic development project manager at the DDP. "DDP is connected to the developers and property managers who build and maintain the commercial real estate and is a partner in the local entrepreneurship ecosystem. This role becomes vital to minority-owned businesses that historically are at a disadvantage when accessing entrepreneurship resources."
The DDP also provides support to minority business owners located downtown or those considering a downtown brick-and-mortar location.
In 2020, DDP launched its Retail Lab program with support from the EC and several other Launch Dayton partners. The Retail Lab provides 12 weeks of workshops taught by experts who help small business owners build a better plan around growing their consumer-based venture.
"Through our partnership with the EC, we can provide small businesses with direct support from a professional service provider. We've now run three cohorts of the Retail Lab, and 62% of the businesses that have participated are Black-owned," said Beerbower. "This builds on an already diverse mix of first-floor business owners in downtown Dayton of which 26% are minority-owned, and just in the last 18 months, 20 Black-owned businesses have opened in downtown Dayton."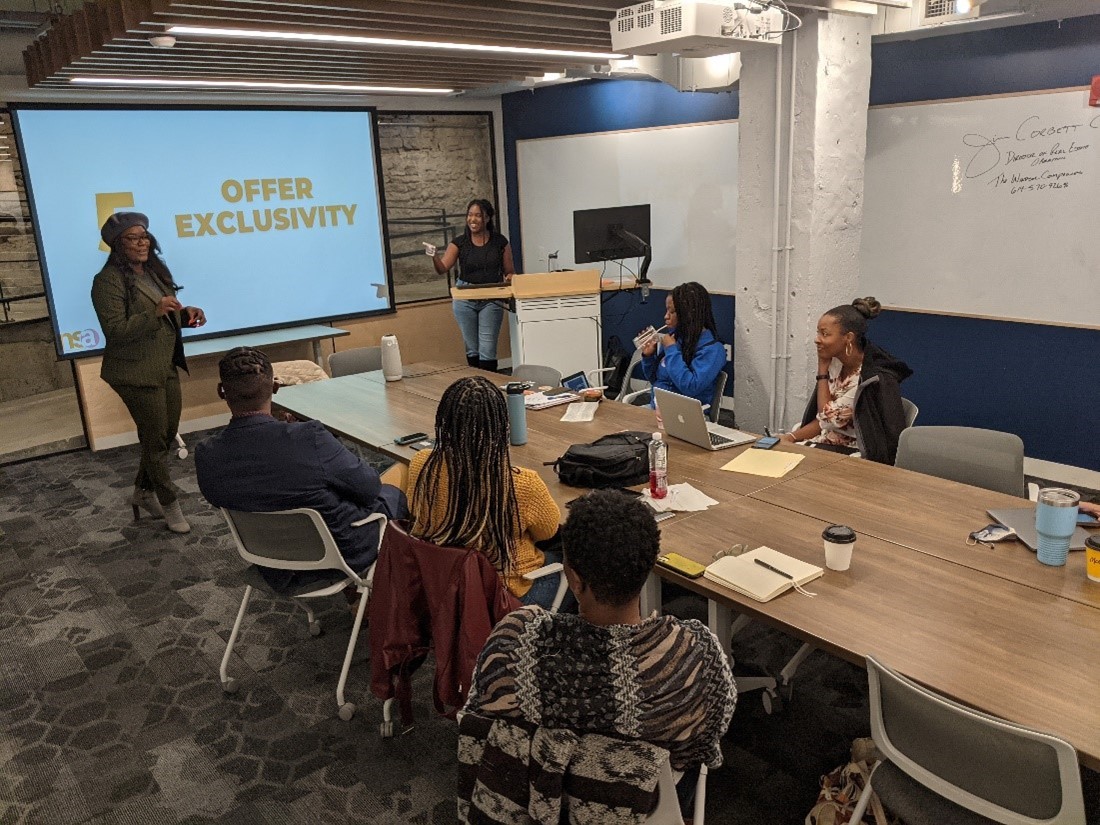 The challenge with accessibility and how they're solving it
A challenge Launch Dayton faces is getting the word out about the resources available to the community. When entrepreneurs lack exposure to or education about the help that is available to them, it creates an accessibility issue. EC's Commercialization Officer, LeKeisha Grant, is working on leveraging Launch Dayton partners to resolve this issue.
"The ability to reach a more diverse crowd of entrepreneurs is vital, but it can be challenging and that is one of the highlighted points of the partnership," Grant said. "It's an open door for us. At times when we may not have an opportunity available for someone's exact needs, we can lean into the relationship and connect them with Launch Dayton for the resources to network and it helps us to stay connected. The relationship has also afforded us the opportunity to be referred to when people first enter the ecosystem at a Launch Dayton event and be directed to us for one of our accelerators or upcoming opportunities for mentorship by our talented team."
Launch Dayton continues to employ new strategies to fulfill its vision of equal opportunity for economic prosperity in the Dayton region. In 2022, the program revamped its monthly LaunchPad series, inspired by the VentureCafe model, with new offerings for multiple hands-on workshops, speakers, and networking opportunities each evening the event runs.
"The goal is to facilitate a space for more creative partnerships and opportunities for entrepreneurs to take the lead to forge the programming they want to see," said Ingram.
Launch Dayton also encourages the Dayton community to engage with the program by becoming a mentor or sharing expertise at Launch Dayton events. Parallax is a proud Launch Dayton partner that continues to support the program's development and execution of DEI efforts.
###
About Parallax Advanced Research
Parallax is a 501(c)(3) nonprofit that tackles global challenges by accelerating innovation and developing technology and solutions through strategic partnerships with government, industry, and academia across Ohio and the Nation. Together with academia, Parallax accelerates innovation that leads to breakthroughs. Together with the government, Parallax tackles critical global challenges and delivers new solutions. Together with industry, Parallax develops groundbreaking ideas and speeds them to market.
About Launch Dayton
Launch Dayton is a collaborative effort to connect entrepreneurs to peers, resources, and supporters, and to tell the stories of our region's thriving startup community. This community exists to support and inspire Daytonians who are building businesses. Launch Dayton partners believe everyone, regardless of their background, should have the opportunity to determine their economic prosperity. Launch Dayton is managed by Parallax Advanced Research.
About Entrepreneurs' Center (EC)
The EC is a modern economic development organization that powers progress and prosperity through entrepreneurship. Annually, the EC works with over 1,000 brilliant entrepreneurs to start and grow companies, create jobs, generate revenue, and attract investment. The EC empowers main street and technology businesses through complimentary professional services including business planning, mentoring, training, networking, and commercialization. The EC's talented and experienced team of advisors, entrepreneurs-in-residence, and staff design and facilitate diverse, world-class business acceleration programs on behalf of corporations, higher education institutions, and government agencies including the U.S. Department of Defense from their headquarters at The Hub Powered by PNC Bank in the historic Dayton Arcade.
About Downtown Dayton Partnership
The Downtown Dayton Partnership (DDP) is a nonprofit organization funded primarily by a Special Improvement District. The Special Improvement District contracts with the DDP to provide a variety of services including business development, advocacy, and marketing. The DDP is also supported by downtown businesses that choose to join as members.