Published on
Apr 24, 2023
Written by: Em Williams and Jill Marconi 
On Friday, March 31, 2023, the Ohio Space Grant Consortium (OSGC) hosted the 31st Annual Student Research Symposium at the Ohio Aerospace Institute (OAI). The event is an integral part of the OSGC Scholarship and Fellowship Program, allowing students the opportunity to display presentations based on research projects they've worked on alongside their faculty mentors. OSGC has been managed and operated by OAI since 1989. This year, over 90 students participated in OSGC's first in-person symposium since 2019, with a hybrid component available for those unable to attend. 
At the Symposium, undergraduate and graduate students explained the research they accomplished during the preceding academic year and were given the opportunity to discuss their research projects with faculty, students, and other attendees. The research was presented with sufficient context so that it was comprehensible to those not proficient in the research area presented, while also explaining any breakthroughs or scientific developments discovered during their project timeline. All research presentations were based around the four NASA Mission Directorates: Aeronautics Research, Human Exploration & Operations, Science, and Space Technology. 
Senior Scholars and Fellows delivered slide presentations including a Question-and-Answer session. Junior, Community College, and Education Scholars prepared poster presentations illustrating their research projects and fielded questions during the poster session.   
Between portions of the Symposium, students had the opportunity to speak with industry partners such as the professional organization, Surface Mount Technology Association (SMTA), from the Ohio Valley Chapter who provided manufacturing insights and explained the benefits of membership to the students.  Also in attendance, OAI industry partners Howmet Aerospace and Materion discussed student internship and career opportunities. OAI's connections to government and industry are a boon to the Consortium, as one student received a summer internship at Materion from the event. The OSGC will host additional professional organizations based on the success of this year's event.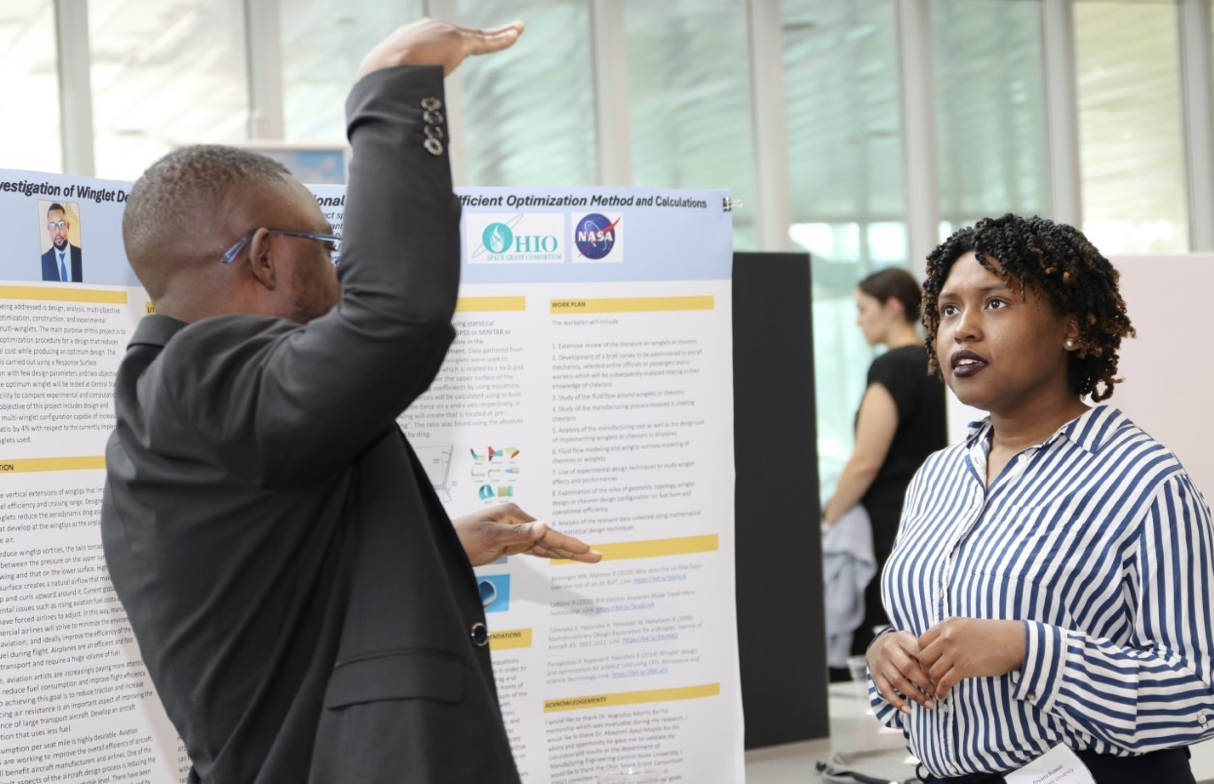 The Symposium concluded with an hour-long question and answer session led by a panel of four alumni OSGC scholars, fellows, and interns who discussed aspects of their success since their time completing research with the OSGC. Panel members were able to provide advice to students as they explore graduate school and employment opportunities, share memorable experiences in the workplace, and make book recommendations both for personal development and pleasure. 
Awards were given out for the best STEM Scholar, Education Scholar, and Community College Scholar poster presentations. The 31st Annual Student Research Symposium successfully brought together young professionals, industry leaders, mentors, and members of support to celebrate the research and accomplishments made by the 2022 – 2023 OSGC students. 
OAI takes great pride in its management of the OSGC, as it is a clear testament to our unwavering commitment to fostering student engagement in STEM research projects. Through our extensive OAI and OSGC networks of partnerships and collaborations with NASA, leading institutions, industries, and universities, we have successfully provided countless opportunities for students to participate in meaningful internships and cutting-edge research initiatives. OAI remains fully committed to supporting the next generation of scientific innovators and looks forward to continuing our work with OSGC to advance the frontiers of space exploration and scientific discovery. 
###  
About Parallax Advanced Research  
Parallax is a 501(c)(3) nonprofit that tackles global challenges by accelerating innovation and developing technology and solutions through strategic partnerships with government, industry, and academia across Ohio and the Nation. Together with academia, Parallax accelerates innovation that leads to breakthroughs. Together with the government, Parallax tackles critical global challenges and delivers new solutions. Together with the industry, Parallax develops groundbreaking ideas and speeds them to market. Parallax now has offices in Cleveland Ohio, Beavercreek, Ohio and Arlington, Virginia.   
About Ohio Aerospace Institute  
The Ohio Aerospace Institute (OAI) is a private, not-for-profit 501(c)(3) corporation founded in 1989. It receives financial support from the Ohio Government, and it operates across Ohio, with offices in Brook Park and Dayton, Ohio. OAI is the first NASA associated collaborative institute chartered to foster relationships between universities, aerospace industries, and government organizations. It maintains strong partnerships with U.S. Federal laboratories, the State of Ohio, Ohio research universities, and the aerospace industry and leverages these partnerships to build collaborations, consortia, and public-private partnerships. OAI manages aerospace research, education, and workforce development projects valuing over $300 million. OAI is an affilitate of Parallax Advanced Research. 
The Ohio Space Grant Consortium 
The Ohio Space Grant Consortium is a statewide network of colleges and universities working to expand opportunities for Ohioans to understand and participate in NASA's aeronautics and space projects by supporting and enhancing Science, Technology, Engineering, and Mathematics (STEM) through scholarships, fellowships, higher education, research infrastructure, pre-college (K-12), and informal education public outreach efforts. The Space Grant national network includes more than 1,000 affiliates from universities, colleges, industry, museums, science centers, and state and local agencies. The Consortium is managed by the Ohio Aerospace Institute.