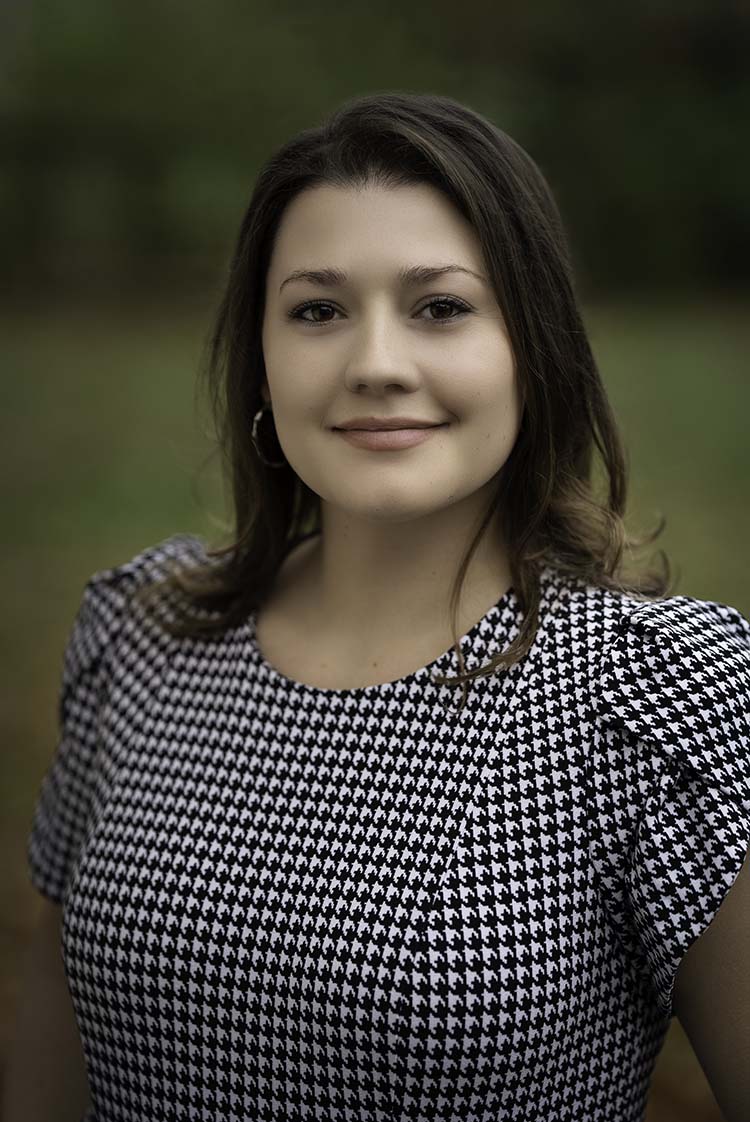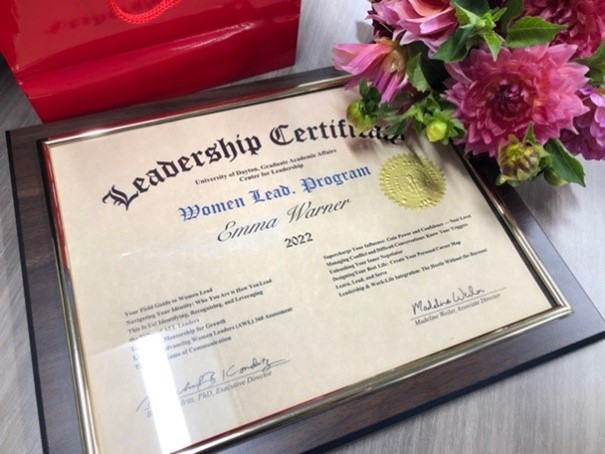 Emma Warner is a Marketing and Communications Specialist at Parallax Advanced Research and has been contributing to our team for over two years. Her true passions lie in graphic design, content creation, event and campaign management, and client relations. 
Emma has made it a practice to seek education and training to advance her skillsets. In 2021, Emma completed four LinkedIn Learning courses obtaining certifications in topics like Adobe InDesign, Adobe Creative Cloud, Adobe After Effects, and Google Ads.  
In addition to these certifications, Emma discovered the University of Dayton Women Lead certificate program in the Fall of 2021. 
Madeline Weiler, Women Lead Program Manager said "Women Lead. is an opportunity for women to invest time in themselves and their personal and professional development! The goal of Women Lead is to create a space where high-achieving women can connect with their purpose to maximize their leadership effectiveness, achieve their goals, and show up as their most authentic selves. We created Women Lead because we recognized a need in the Dayton community for more opportunities for women to engage in customized, bold, and intersectional leadership development programs that focus on the unique challenges faced by women leaders."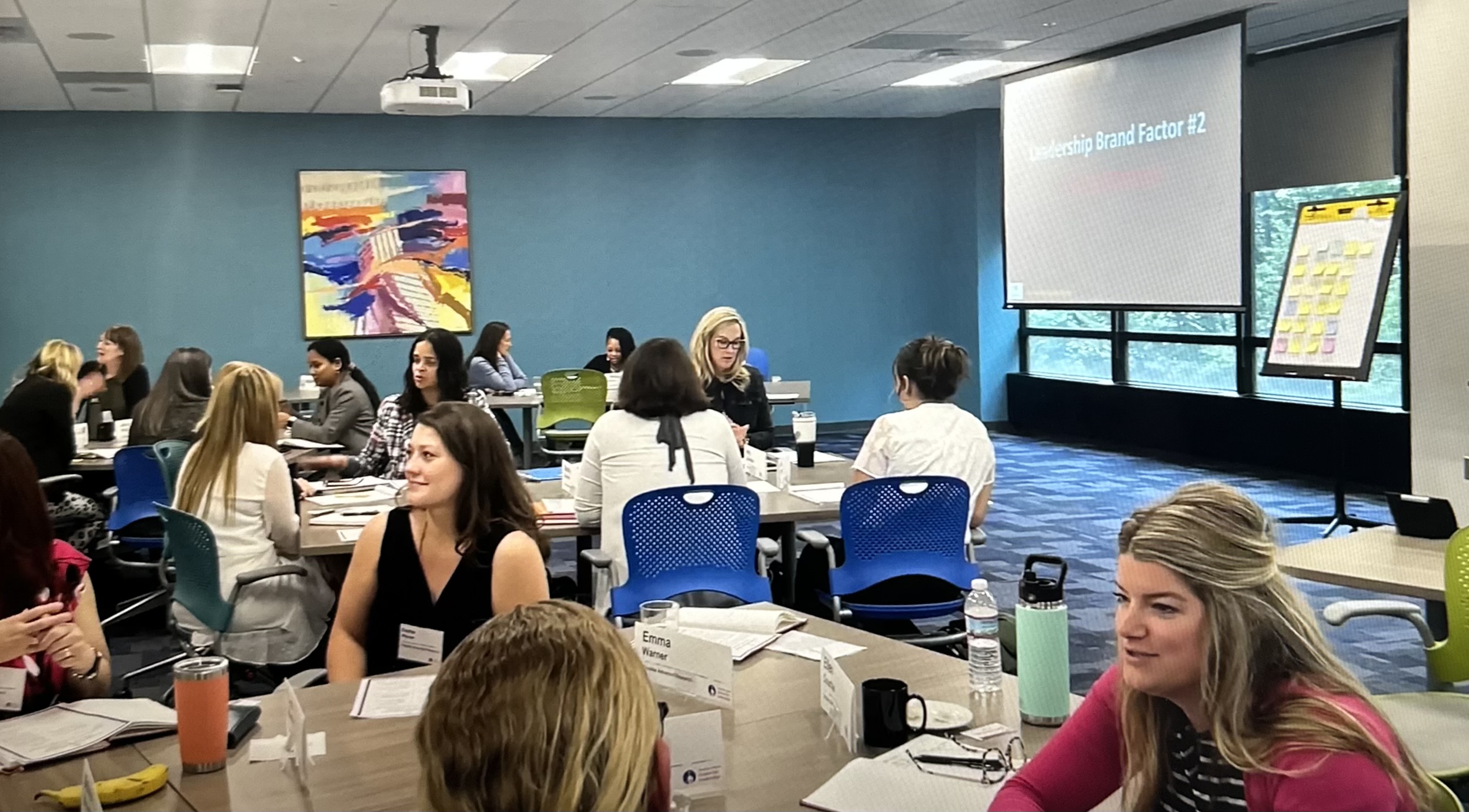 When Emma approached Parallax about the opportunity to utilize the employee assistance funds for the Women Lead program, Parallax leadership was excited to support her and quickly began the process of application into the cohort. Emma was accepted into the program among 30 other leaders.  
Throughout her six months in the program, Emma developed skills in navigating identity, leveraging mentorship, the inner game of communication, professional confidence, conflict management, negotiation, career mapping, and an all-encompassing 360 assessment where she received feedback from peers and managers on her performance and areas for growth. She also was paired with a mentor, Meghann Naveau, founder of the communications company Esther & Joseph. Emma and Meghann met once a month to further outline Emma's goals, recap course content, and develop her leadership.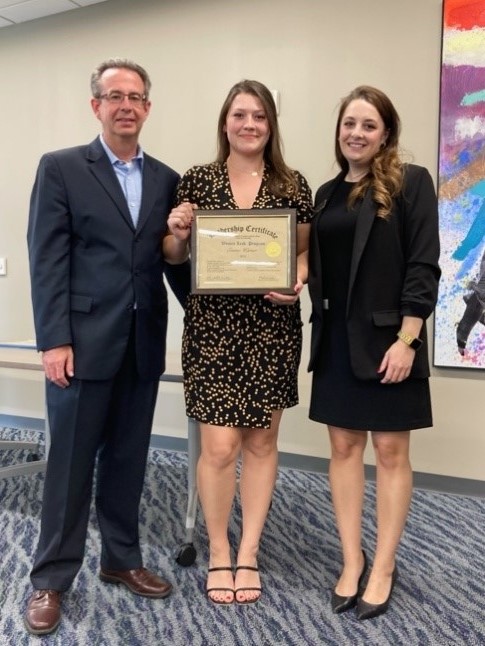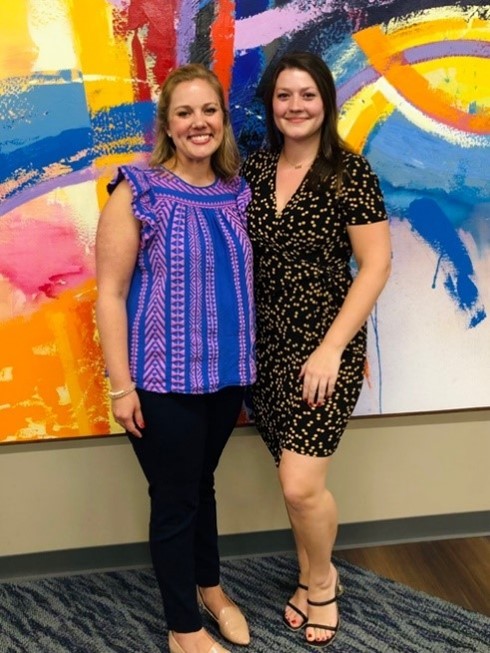 At the end of the six-month program, the cohort attended a graduation ceremony with their family members, mentors, and direct supervisors. Emma was among three other cohort members who spoke at graduation where she shared, "The Women Lead program came at the perfect time in my career as I'm transitioning into higher leadership positions. The facilitators we worked with week after week and the diversity of course content was integral to my new-found confidence and skills as a leader. I also feel extremely lucky to have been amongst a group of women leaders who, although in different stages of their lives and careers, shared a commonality in our desire to better ourselves and rediscover our true passions. This program is an experience I will cherish for years to come, and I believe every participant will do the same." 
Madeline also shared, "We were so lucky to have Emma in the cohort because she offered a really unique perspective as a young professional in the program. She was taking full advantage of leadership development that many people don't engage in until much later in their careers. I was so impressed by that." 
To learn more or apply to the 2023 cohort, visit the program website here.
###  
About Parallax Advanced Research   
Parallax is a 501(c)(3) nonprofit that tackles global challenges by accelerating innovation and developing technology and solutions through strategic partnerships with government, industry, and academia across Ohio and the Nation. Together with academia, Parallax accelerates innovation that leads to breakthroughs. Together with the government, Parallax tackles critical global challenges and delivers new solutions. Together with the industry, Parallax develops groundbreaking ideas and speeds them to market.