Published on
Aug 31, 2023
Beavercreek, Ohio – Parallax Advanced Research's Mobile Testing Evaluation Center (MTEC) is an advanced computer-equipped mobile lab that travels to various locations throughout the United States to conduct simulated and live unmanned aircraft systems (UAS) flight tests, from software to sensors. Research objectives that have been supported by MTEC include developing and testing vehicle agnostic automation technology for multi-UAS operations supervised by a single operator. MTEC was built in 2012 to meet the needs of projects that Parallax supports.  
The 43-feet long MTEC trailer is a one-of-a-kind facility that is self-sufficient with a 30 KW generator, HVAC, 3 slide outs that provide a ~550 sq. ft. area, and diamond-plated roof with tie downs for external equipment. The trailer is connected through a network to MTEC's Kenworth T300 truck with 330 HP, 7.5 KW generator, HVAC and an extended cab providing expanded test support. The interior of the trailer features 11 rack mounted computers, 72 terabyte RAID, 8 work centers, two external cameras and two internal cameras, a GPS-based network time server, a SmartEye Tracking System, and internal/external network connections. 
Parallax's MTEC's flight test services include:  
Writing test plans, 

Selecting equipment (aircraft, antenna, radios, etc.), 

Developing scenarios, 

Managing logistics by palletizing material and equipment to ensure safe and timely transportation to and from destinations, 

Coordinating with test range for scheduling, shipping, range-safety training, communications, etc., 
Managing complex and disparate technologies, 

Coordinating with external pilots, air vehicle operators, test-required personnel, and local airspace authorities to ensure successful flight operations. 
The MTEC also provides an external pilot responsible for aircraft in manual mode and air vehicle operators who are responsible for preflight, post-flight, and safe operations of the aircraft. The MTEC team handles the maintenance needs and ground support equipment. 
MTEC has been used at 16 test ranges and civilian airports throughout the USA, including Springfield Airport in Ohio, Vandenberg Air Force Base, and White Sands Missile range in New Mexico. Parallax has conducted multiple UAS operations and flown over 1000 flight hours. Multiple types of vehicles have been flown by MTEC including hundreds of hours of multi-UAS control by a single operator.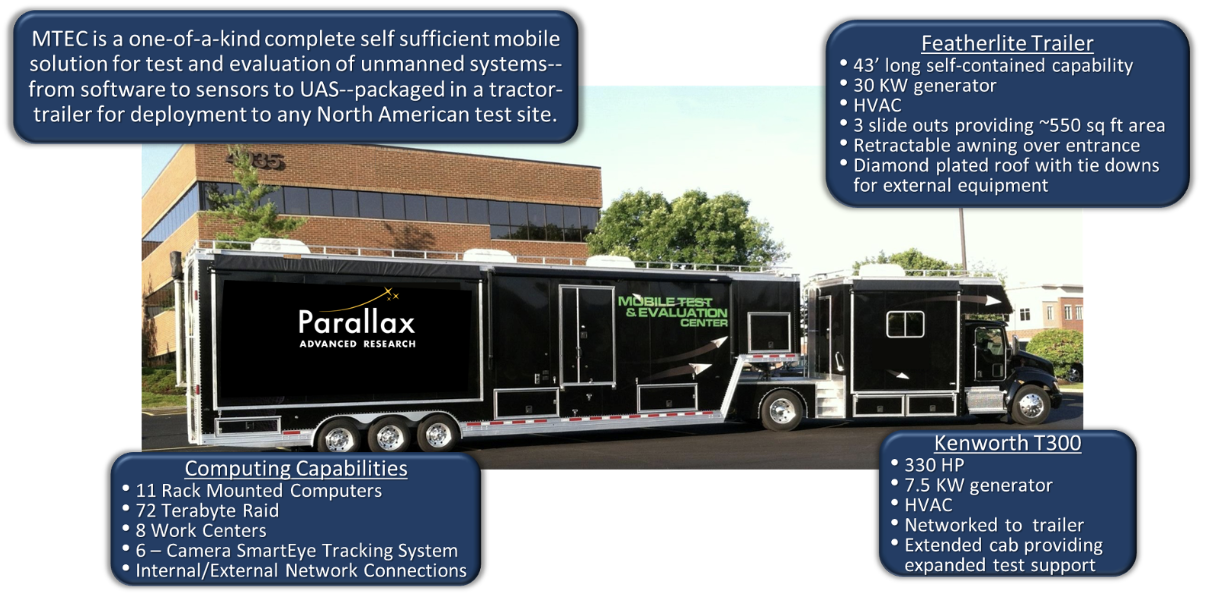 "UAS are divided into groups based on their size and capability," said Dr. Dave Gross, program manager and director of Unmanned Systems at Parallax Advanced Research. "Group 1 is under 25 pounds, Group 2 under 55 pounds, and a Group 3 UAS can be a couple hundred pounds. Group 4 and 5 UAS are large aircraft like the Predator, Reaper, and Global Hawk. We did a lot of research on small UAS for years and tested them with a single operator control. That set the stage for what we are working on now with larger UAS."
What's next for Parallax's UAS capabilities? 
Although most of the work done utilizing MTEC has been for testing UAS, it can also be used for any kind of mobile testing. 
"We are looking forward to pursuing commercial markets for flight testing," said Scott Swanson, UAS Business Concepts Director at Parallax. "Specifically, as the UAS market grows for commercial UAS cargo deliveries, these systems will be designed to be autonomous/remotely operated." 
MTEC and the team supporting it are well suited to conduct flight testing at any of the seven Federal Aviation Administration (FAA) UAS Test Sites located across the USA. Parallax's experience in conducting Department of Defense flight testing can directly corelate with the FAA Test Site Program to provide verification of the safety of public and civil UAS, operations, and related navigation procedures before their integration into the National Airspace System. Parallax can also team with clients to support tests with the Ohio UAS center and the new National Advanced Air Mobility Center of Excellence, or NAAMCE, being constructed at the Springfield-Beckley airport outside of Dayton. 
### 
About Parallax Advanced Research 
Parallax is a 501(c)(3) nonprofit that tackles global challenges by accelerating innovation and developing technology and solutions through strategic partnerships with government, industry and academia across Ohio and the Nation. Together with academia, Parallax accelerates innovation that leads to new breakthroughs. Together with government, Parallax tackles critical global challenges and delivers new solutions. Together with industry, Parallax develops groundbreaking ideas and speeds them to market.